Ownership

Madison Marquette is a private, fully integrated real estate investment management and operating company providing a comprehensive set of services to institutional investors in retail, mixed-use and office assets in top-tier markets across the United States. Since the firm's inception in 1992, Madison Marquette has worked with a premiere group of partners and clients to define and execute accretive plans to successfully achieve investment objectives. Madison Marquette has been recognized as a thought-leader and innovator in the real estate industry – with a keen ability to identify trends impacting real estate investments and to strategically incorporate these trends into the firm's investment, planning, development, asset management, leasing and operating strategies.
Today, Madison Marquette is working collaboratively with its clients and partners to leverage current trends to maximize values in retail, mixed-use and office assets in and around dynamic urban gateway markets including New York, San Francisco, Seattle, Washington DC, Los Angeles and South Florida.
Leasing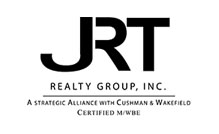 JRT Realty Group, Inc., was established in 1996 as a woman-owned, full-service commercial real estate services firm to address industry-wide supplier diversity initiatives. Today, the company is recognized as an industry leader and the nation's largest certified M/WBE commercial real estate firm.
The company's benchmark for superior service enables Fortune 500 and institutional clients, as well as federal, state and city governments, to achieve their aggressive, multi-million dollar diversity spending goals through innovative business solutions.
JRT Realty provides a full-range of customized client services, including strategic planning, corporate real estate portfolio management, tenant representation, leasing and property marketing, financing and investment sales.